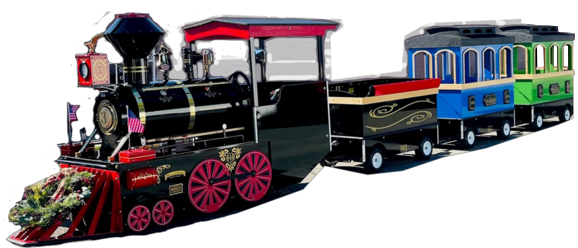 Trackless Train




$999.99

Please call to reserve this item.

Our Nashville Trackless Train rental fee is $999.99 for up to 2 hours, $1199.99 for 3 hours or $1399.99 for 4 hours, and $200.00 an hour after that.
Riding our trackless train rental can be a fun and enjoyable experience. It typically offers a smooth and comfortable ride and can be a great way to see different sights and attractions.
Our Nashville Trackless train rental can be rented for a variety of events, including:
Amusement parks and theme parks: Trackless train rentals are often used as a form of transportation within these types of parks, or as an attraction on their own.

Festivals and fairs: A Nashville Trackless Train rental can be a popular addition to these types of events, as they provide a fun and unique way for visitors to get around.

Community events: Cities and towns may rent a trackless train rental for parades, community festivals, and other events.

Corporate events: Companies may add a Nashville trackless train rental for employee appreciation days, picnics, or other company events.

Children's birthday parties: Trackless train rentals in Nashville can be a fun and unique addition to children's birthday parties, providing entertainment for both kids and adults.

Shopping centers and Malls: Trackless train rentals are very popular and can be rented to move people around the mall or shopping center.
Rentals of trackless trains in Nashville are trending, people love them because are a great way to entertain the whole family during an event!
Trackless train rentals can be enjoyed by children of all ages, but they are particularly popular with young children. Children as young as 2 or 3 years old can enjoy a ride on a trackless train rental, and it can be a fun and exciting experience for them. As kids get older, they may still enjoy the trackless train rental ride, but may also appreciate the sights and attractions that a trackless train ride can offer. Trackless train rentals are often a popular attraction at amusement parks and theme parks, where they can be enjoyed by children and families of all ages. It is important to note that each specific trackless train rental may have age restrictions, height requirements, and other safety guidelines, so it is important to follow the safety guides of your trackless train rental.
A trackless train rental refers to the rental of a train-like vehicle that does not run on tracks. Trackless train rentals typically have a locomotive and several passenger cars that can be configured to seat various numbers of people. This trackless train rental is powered by an electric engine and can be driven on streets, sidewalks, indoors, or other hard surfaces. Trackless train rentals are often used for events such as festivals, fairs, and parades, as well as for transportation at theme parks and other tourist destinations. Trackless train rentals can also be used as a mode of transportation for city tours.
An electric trackless train rental is 100% emissions-free, with a beautiful classic steam train look, and a beautiful black and red color combination is a unique and eco-friendly mode of transportation that combines both vintage and modern design. Our trackless train rental is built with safety as a top priority, featuring enclosed wagons for the safety of passengers and LED lights in all the wagons for visibility during nighttime events. This amazing trackless train rental also has speakers for announcements and can play music during rides, making it a great addition to a variety of events such as Easter, 4th of July, Fall festivals, Christmas events, and even birthday parties. This trackless train rental's classic look and beautiful color combination make it a perfect fit for any event looking to add a touch of nostalgia and elegance.